Top Rated American Heart Association AHA BLS CPR Healthcare Provider Classes
CPR Certification Orlando offers CPR classes to certify and renew certifications at our office in Orlando every week and also offers come to your location services for large parties in Orange County, Longwood, Casselberry, Altamonte Springs, Maitland, Winter Park, Apopka, Ocoee, Doctor Phillips, Celebration, Orlando, Alafaya, Deltona, Kissimmee, Sanford, Winter Garden, Four Corners and Oviedo. CPR Certification Orlando supplies you with the best education experience you need to help save a life. Whether your goal is to be equipped for your job or you're simply looking out for friends and neighbors, we offer American Heart Association certified courses with Basic Life Support (BLS), Healthcare Provider CPR(Cardiopulmonary Resuscitation) and Automated External Defibrillator use (AED). With our team, you will enjoy the best CPR and First Aid education experience at a reasonable rate.
American Heart Association AHA BLS CPR and AED Certification
BLS CPR & AED Classes
$59.95
CPR Certification Orlando is the place to go when you need a CPR class that is 100% approved by the American Heart Association. Our team has taught over 30,000+ people across the nation with our same-day learning and certification experience. The team of instructors will cover everything you need to know.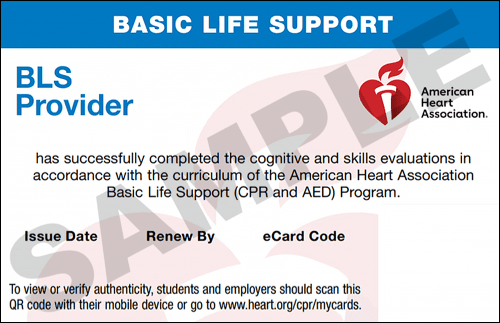 American Heart Association AHA BLS CPR and AED Certification & First Aid Certification
BLS CPR, AED + First Aid Classes
$79.95
You deserve the finest First Aid and CPR classes, which is why our team provides the most comprehensive BLS courses. Our organization equips you with 100% American Heart Association certified CPR training for Healthcare Provider CPR & AED use.

Natasha, Medical Assistant
""This was just the right environment to get recertified with BLS CPR. The instructor was amazing and brought the years of experience on the job to the classroom. I was very impressed with the level of knowledge that the instructor had. Learning was made interactive and fun, which was a lot better than feeling like a typical boring class. Highly recommended.""
Dahlia, Dentist
""Awesome experience! I've taken many BLS classes before and this is by far the best class ever. The course was great and I enjoyed the excellent teaching. I really learned the process well and definitely feel more confident. I'd surely recommend this location to anyone that is looking to get certified.""
Michael, Nurse
""Just had my BLS CPR and First Aid certification and it was so great. Got both certs knocked out in one day. The instructor made it fun and covered all the material in a clear and concise manner. If you still have questions afterwards, the company will continue to extend their support. The facility is nice, as well as easy to get in and out of. Strongly recommend signing up for this class!""
Orlando's Best CPR Certification
Know CPR. Make a difference. Save a life.
Thousands of people suffer from strokes, accidents, and heart events every year; more lives would be saved if more individuals knew how to perform this life-saving skill. Thank you for considering CPR Certification Orlando for your BLS certification.
What is CPR?
Cardiopulmonary resuscitation, or CPR, is a life-saving procedure that is used when someone's heart has stopped beating. The goal of CPR is to restore blood flow to the victim's brain and other vital organs. CPR is a truly life-saving skill that can be performed by trained medical professionals, but it can also be performed by laypeople who have received basic training. Ensure you are ready to take action when needed!
What to Expect in Your CPR Course
CPR Certification Orlando loves our community and desires to equip everyone with the best CPR education possible. In an emergency, you can confidently step into action knowing you've completed our course.
Through our program, you'll learn how to work on your own or as a team, be able to find the pulse, perform chest compressions, and conduct the seven steps of CPR to ultimately restore regular breathing. You will meet OSHA requirements and know you have received the finest American Heart Association CPR and BLS education.
CPR Certification Orlando is accepted by all employers and organizations, including —
Nurses, RNs, and CNAs
Hospitals EMT/Paramedic Companies
Home Health Aides
Nursing Schools and All Other College Programs
Nonprofits like the Boy and Girl Scouts of America
Firefighting and Other Municipalities
Personal Training Facilities and Gyms
Daycare and Other Caretakers Schools (Private and Public)
Hospitality Industry
Construction Sites
Why Train With Us?
We enable you to have a more personalized training experience with our in-person classes, streamlined course structure, and hands-on components. Our certification is one of the most widely recognized CPR BLS certifications around. With our same-day training and testing, you can walk away with your AHA-certified BLS CPR card, your CPR Certification Orlando first aid card, and the confidence and skill to save lives.
FAQS
How do I complete the CPR classes?
We want to make sure you can provide a high-quality CPR/First Aid certification. You'll be able to get certified for CPR and BLS in just one day with our live training. Once you sign up for your class, all you need to do is show up! On the day of your class, you will receive all required live-trained segments to ensure that your card is 100% AHA Healthcare Provider certified.
When looking online, be mindful of other certifications that sound less expensive. They could be missing essential portions and have hidden fees along the way.
How much does it cost to become certified?
Our CPR classes cost $59.95 (discounted from $79.95 for today only).
Our First Aid + CPR class costs $79.95 (discounted from $99.95 for today only).
Although some other courses may publicize seemingly more affordable prices, they could be missing vital training segments. Our courses will include your training, skills check, written test, and certification — on the same day with absolutely no hidden fees.
When will my certification expire?
To stay up-to-date with the most recent standards and regulations, you must renew your certification every two years.
How can I renew my CPR Certification?
You can sign up for any of our courses to fulfill your CPR certification.
Can anyone take these courses?
Everyone is encouraged to attend our class, regardless of age or experience level. Sign up today!
What do I have to do to earn the CPR certification?
Simply attend the class and satisfy the skills check and a written exam.